When you return home from traveling, you're bursting with excitement and want to tell everyone about everything you've just experienced.
Right? 🙂 
At first, friends and family are eager to listen. But then…you start noticing the barely concealed eye rolls whenever you try to add to the conversation with "when I was in…"
Here's a simple solution you can use on your next trip: create a postcard journal! 
Why I Love Postcard Travel Journals
I buy a lot of postcards when I travel but rarely end up sending any home anymore (thanks, social media). Which means I end up with boxes of postcards sitting in my attic. Postcard journals allow me to feed my postcard addiction in a positive way. 🙂 
Because postcards are so small, I only need a few minutes a day to keep up with my travel journal. No more going home with a mostly empty travel journal after a busy trip!
I used to lug around whatever journal I was currently using but when I started traveling with a laptop, I wanted to avoid carrying additional heavy things. So I traded my clunky regular journal for a lightweight postcard journal.
I wanted to share my travels with others but not via a personal journal. And I definitely didn't want to carry two journals. So these days I use my I'm Thinking…TRAVEL! Journal for my personal journal, and then I'll create postcard journal to share with others once I'm back home.
Postcards are plentiful, lightweight, and inexpensive. A postcard journal is something you can create while traveling and then display it on a coffee table. It's a lot of fun to flip through once you're back from your trip – and it makes for a wonderful conversation starter.
Friends and family will take a look at your postcard journal and then beg you to talk about your travels! 
How to Make a Postcard Journal 
Here's what I do. Each day I buy a postcard that represents where I am or what I'm doing that day.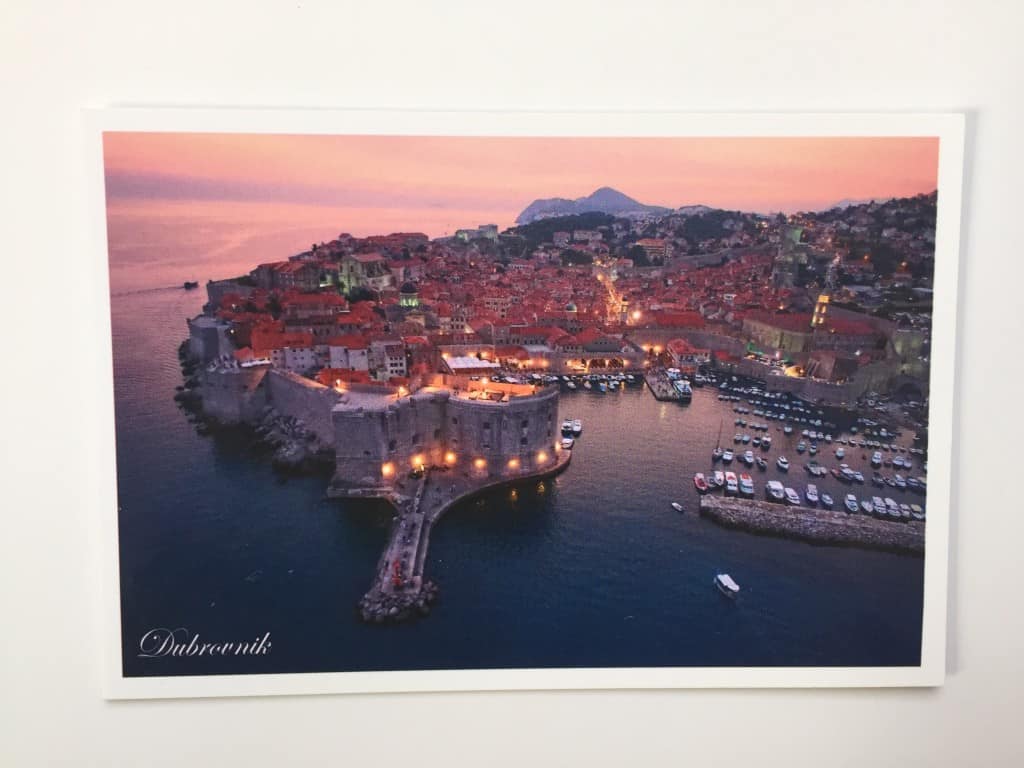 When I sit down for a tea break, have a few free minutes on the metro or am unwinding at night, I pull out my postcard and jot down a few notes from my day (I know, I do not have pretty handwriting. I'm ok with it.).
Sometimes my postcard is a quick summary of my day, other times I go into more detail about one experience, make a list, write about something I ate, etc. I just do whatever I feel like doing that day.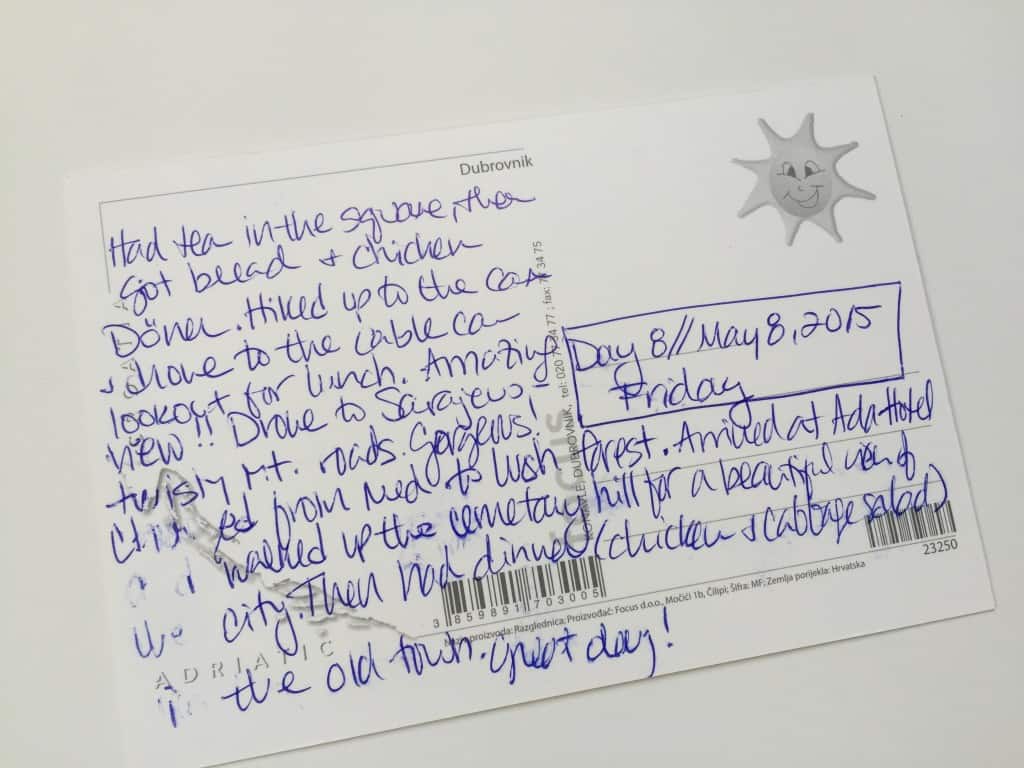 I label each postcard with the date, location, and trip "Day #."
I keep the written postcards in a ziplock bag until I get home. If you're on a long trip and don't want to carry them around the world with you, just mail them home.
When I get home, I punch a hole in each postcard and use a metal binder clip to bind them together. 
Tip: decide ahead of time where you're going to punch the hole so you can keep that space clear of writing. After creating the journal in these photos I decided to punch the hole where the stamp would go.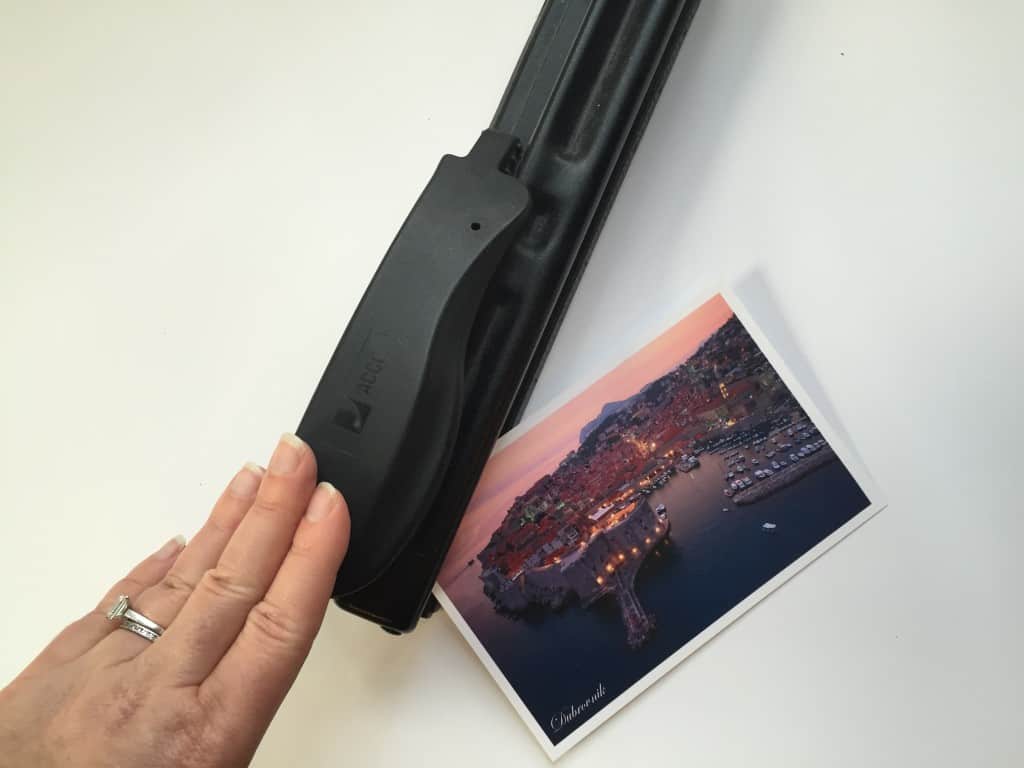 I use an extra postcard to create a cover. (That purple one below? It's part of a set I bought when I lived in Germany as a high school student!) I then use washi tape and a Sharpie to write my travel information on the cover. You could also simply use your "Day 1" postcard as your cover. Or get fancy with stickers and other embellishments.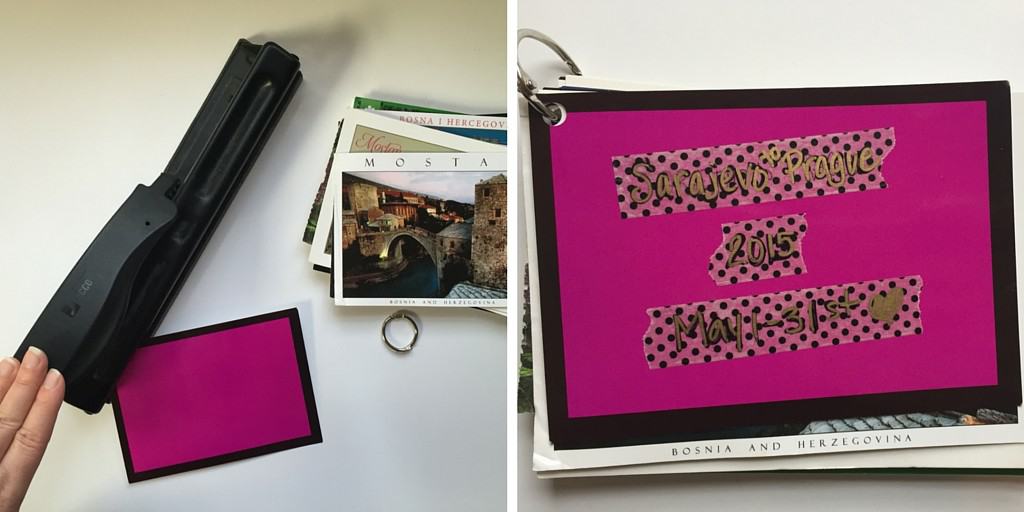 I then bind all of the postcards together using a metal ring. Don't have a metal ring? You can buy them at any office supply store or on Amazon. You could use a ribbon or baker's twine.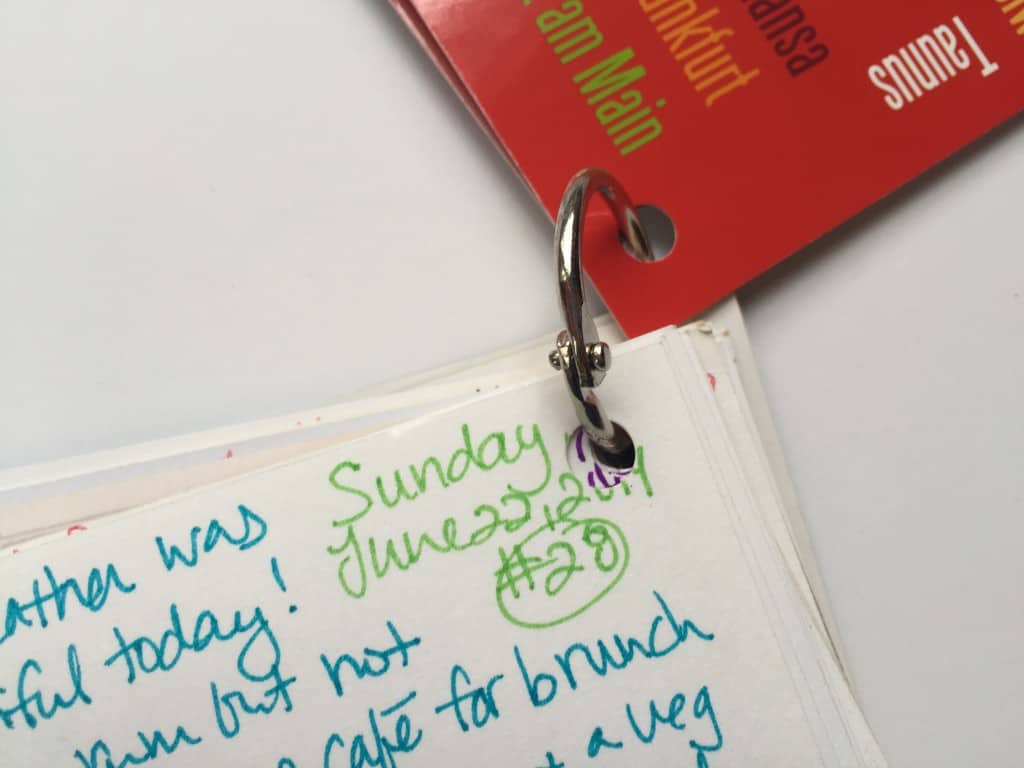 Leave your postcard journal on your living room coffee table or hang it on a bulletin board in your office. You'll find that it invites questions and conversations about your travels without you feeling like you're forcing the topic on anyone!